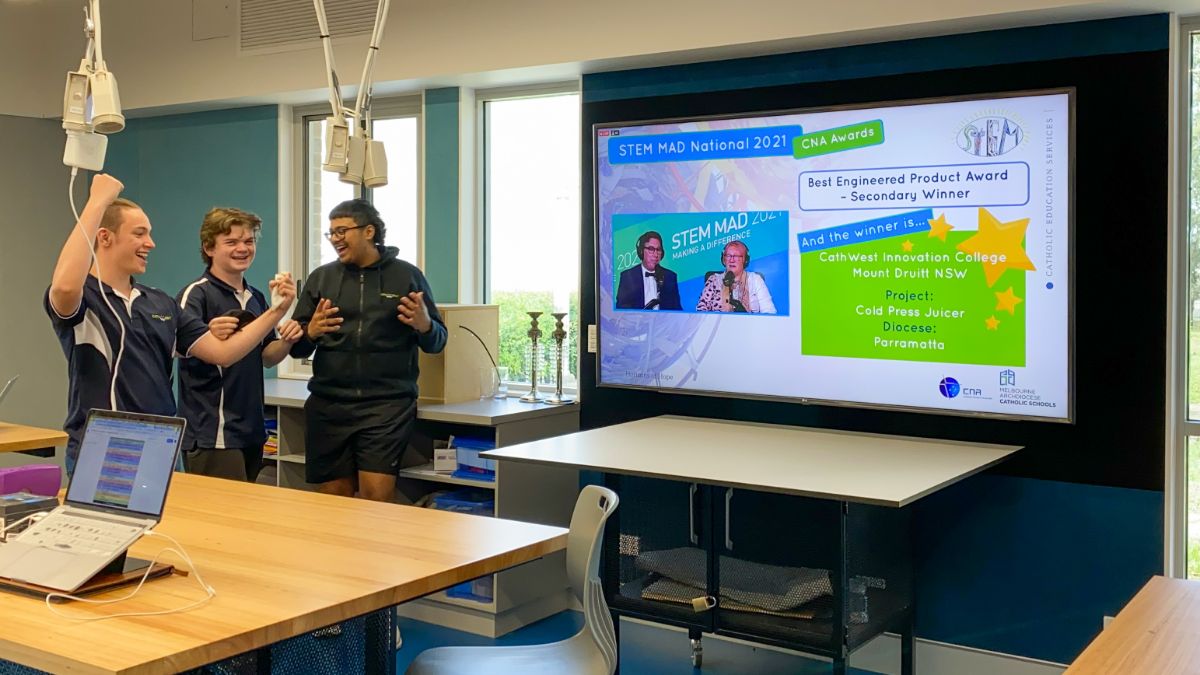 CathWest students (from left to right) Mason, Toby and Kapish celebrate their win in the national STEM MAD showcase (Thomas absent).
Inspired by a desire to make a difference in the world, students from three Catholic Education Diocese of Parramatta (CEDP) schools have had their ingenious creations featured in the national STEM MAD showcase, a celebration of Science, Technology, Engineering and Mathematics learning.
With campuses in Emu Plains and Mount Druitt, CathWest Innovation College won the Best Engineered Product Secondary awards for their Cold Press Juicer.
"To win... it was the best thing ever," said CathWest Innovation College student Mason Jasmin. "It was one of the proudest moments in my life. The best thing about this whole experience was that I got such excitement every time I got to work on this project and being involved in STEM MAD has really inspired me to pursue a possible career in engineering or electronics after school."
Not only did the Cold Press Juicer devised by CathWest Year 10 students Mason, Kapish Thaker, Thomas Formosa and Toby Grundy take the top engineering prize, it's also set to be turned into a fully-functioning appliance that will be used in the school's cafe next year.
It will provide the means to create healthy nutritious drinks using all parts of the fruit and with minimal waste.
Along with the cafe, CathWest has many dynamic facilities and work environments such as a family playgroup and hairdressing facility where students develop real-world skills.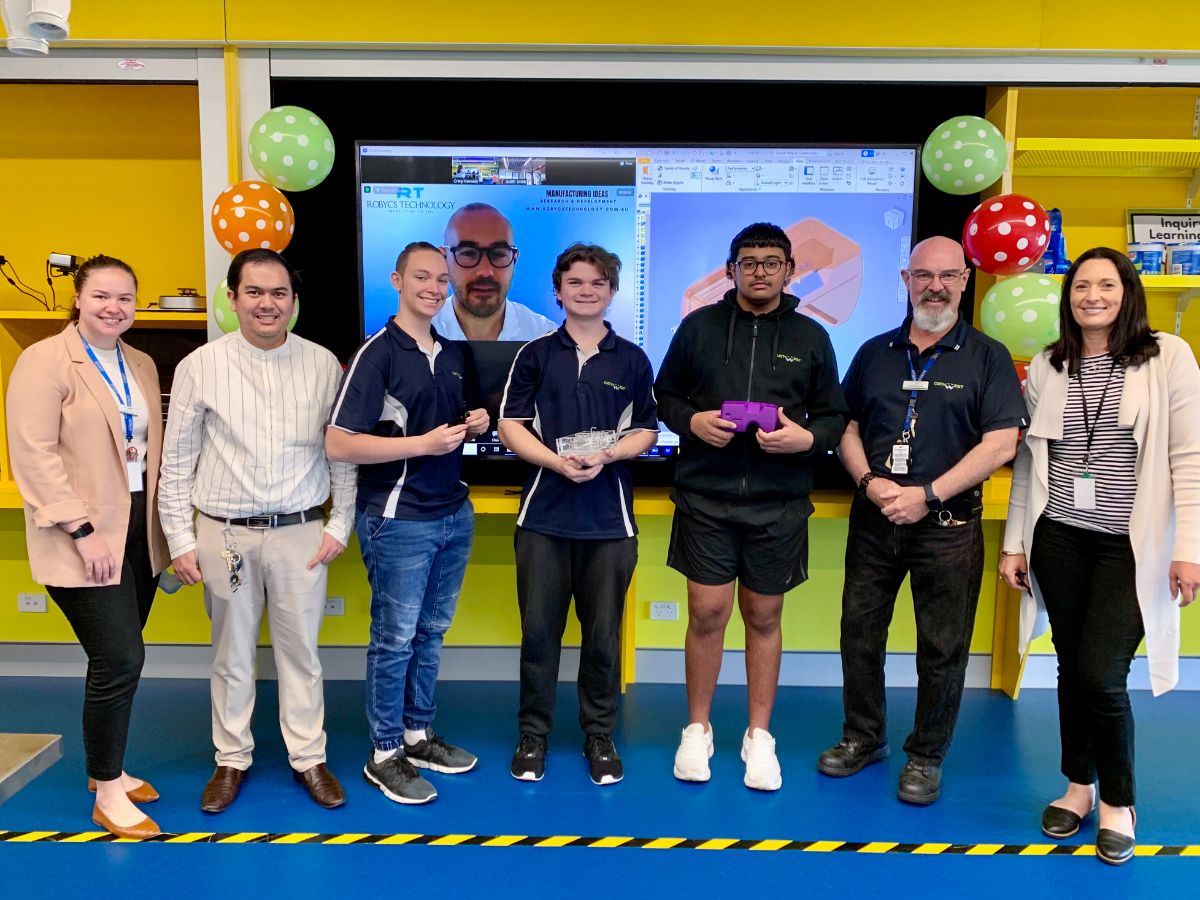 The CathWest students brought their Cold Press Juicer to life with the help of teachers and industry experts such as Raymond Sanchez (CEO Robycs Technology)
"This project was driven by students who really wanted to excel and extend themselves beyond the traditional classroom," said Luke Dela Cruz, CathWest Leader of Learning Technology. "They had to self source a lot of information outside the traditional areas and had to learn things like nutrition, the breaking down of fruit and enzymes and all the maths and engineering required to make juice in this way."
Aswell as being assessed on design, application of scientific, mathematical and engineering concepts, projects were also judged on the distinction of making a difference in the world by acting for justice and the common good.
"Witnessing the students' excitement at winning the STEM MAD competition was priceless," said Craig Kennedy, CathWest Trade Training Officer. "It's awesome seeing the next generation of designers evolve out of CathWest."
St angelas: Judges were impressed by St Angela's Castle Hill students Simone and Chloe and their Worry Watch project which made it through to the national STEM MAD showcase.
The 2021 showcase, which was held virtually, adopted the theme 'Learning from the past to build a better future'. Along with CathWest, St Angela's Primary Castle Hill and Our Lady of Mount Carmel Primary Wentworthville represented CEDP at the national showcase.
The success enjoyed by CEDP's three national finalists came off the back of a hugely successful CEDP STEM MAD competition which saw dynamic entries from 10 schools and also the Jarara Indigenous Education Unit.
2021 CEDP STEM MAD highlights
"We were very proud of our representative students at the National event but equally proud of the work all of the schools put into the CEDP STEM Mad event prior," said Lisa Nash, CEDP Digital Learning Officer. "It was inspiring to see students from diverse ages and abilities, including students from Kirinari, addressing real world problems through STEM.
A desire to help young people deal with anxiety was the inspiration behind the Worry Watch devised by St Angela's Primary Castle Hill Year 4 students Simone and Chloe.
Runners up in the Best Innovation for Health category, the Worry Watch aims to help people with anxiety to relax. It has different settings and emojis that change according to a wearer's mood. It has apps for meditation and breathing, it plays soothing sounds and there's also an inbuilt fidget function.
"Their dedication and initiative was truly exceptional," said Tahlee Simpson, St Angela's Primary Learning Technology Support Leader. "The fact they were able to come up with something that was so relevant, especially through such a difficult time, was so impressive."
Olmc wentworthville: Our Lady of the Mount Carmel Wentworthville students were also finalists at the national STEM MAD showcase thanks to their Dyslexic Glasses project.
Year 6 students at Our Lady of Mount Carmel Wentworthville Sai, Mishti, Neha and Sarayu were also national finalists with their Dyslexic Glasses project. The glasses are designed to scan words in front of a wearer and convey meaning, helping people suffering from visual dyslexia.
"It was a pleasure to work with the girls on their project," said Elise Thomas, Our Lady of Mount Carmel Learning Technology Support Teacher.
NSW students were widely praised for their projects, many of which were completed during the state's extended lockdown which saw the majority of students return to remote learning for the majority of Term 3.
"They displayed consistent motivation, dedication and teamwork despite the challenge of remote learning during lockdown," said Elise. "I am so proud that they were chosen to represent the Parramatta Diocese and our school at the STEM MAD national showcase."
"I was so proud," added Luke Dela Cruz. "It was vindication for all the hours they put in. All the late nights and work on weekends to get this project across the line, especially on top of everything else they were dealing with during lockdown."
"Lockdown was certainly tough but it actually showed us all what an amazing team we have and that includes the teachers," said CathWest student Kapish Thaker. "Everyone held up their end of the project and it's a big reason why we were able to continue the project through lockdown and ultimately do so well."
---
View and Download all photos from this event